Eli's Wild West Birthday Party
Hello everyone, I'm so glad that you are visiting my party blog again!
Today I'm super excited to be sharing all the details from Eli's Wild West Birthday Party, so feel welcome to be my guest and let's walk through the field!
Continuing with the tour, we had a Welcome Table where guests shared their best wishes to Eli in the Guest Book, they grabbed a bandanna and set up to the rodeo! I added this cute chalkboard sign to give a western character to the party and a simple rustic burlap tablecloth to close the concept.
The catering was served on this gorgeous wagon that I made, well, okay, with the help of my wonderful husband!
We used a plastic foldable table and made a wood base for it. I also used huge wooden wheels and some plastic tubes and fabric for the ceiling. Finally I added some details such as the Burlap Banner with a red Bandanna to add color and a cute oil lantern that I found at a vintage store. I am very proud of the result; the guests were amazed with how real it looked!
The main idea was to place the Western Wagon on the yard, but because of the cloudy weather, we decided to not take our chances and set it up inside, on the porch.
Next to the food, we had The Watering Hole with a variety of drinks, custom water bottles and cute accents that were all around the party. I just got to say I absolutely love the chalkboard design made by Jourdan from Lettered in Love, she is absolutely my favorite chalk artist!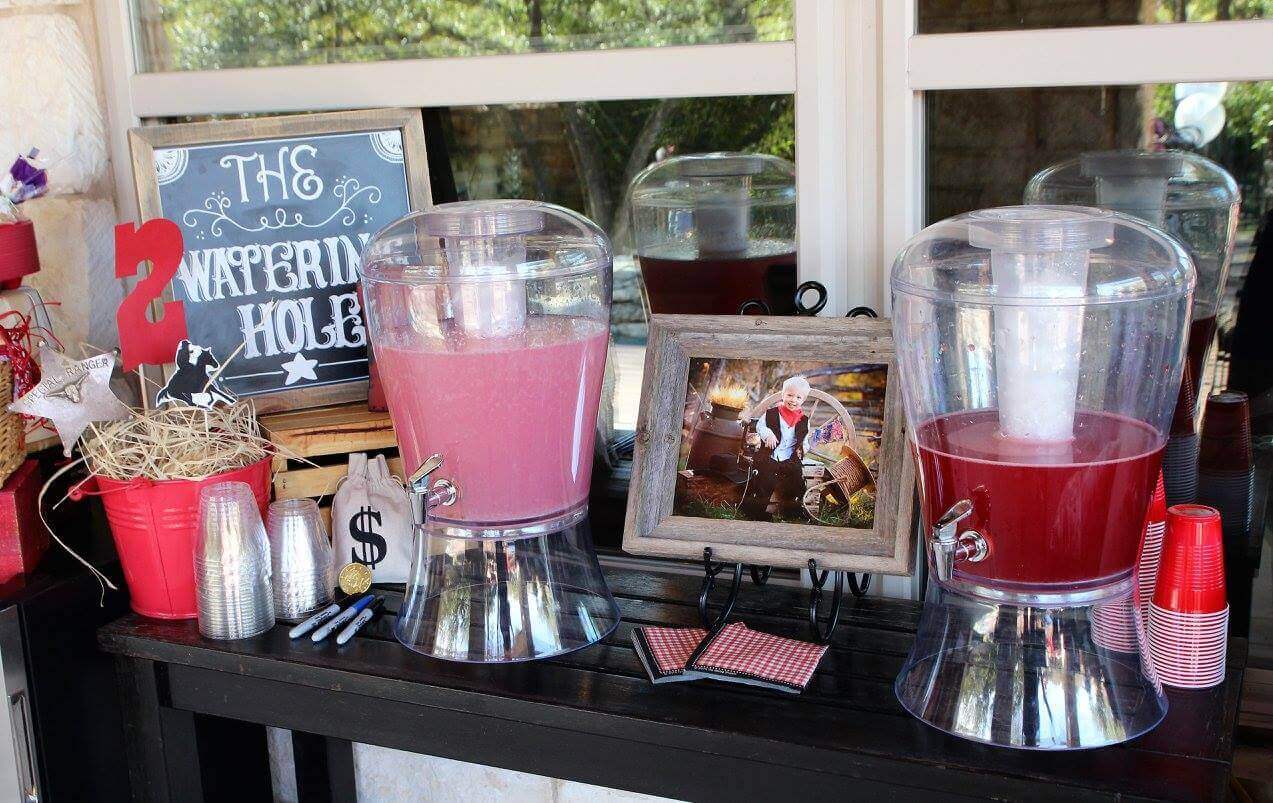 My client set up these tables for the kids. She covered them with a burlap tablecloth and a bandanna table runner, Popcorn Bucket centerpieces, money bags, crayons and paper for the kiddos to be entertained with. She did a great job!
The Wild West Bank was full of Goody Bags stuffed with fun toys, bubbles, candies and crayons that the Little Cowboys found as a treasure. Chocolate gold coins and ingots made it even more interesting for kids and adults! Love how the custom Thank you tags made by Mae looked on the bags!
Of course, pictures of The Most Wanted of the party were a cute detail that all the guests loved to see. Once again, my client did a fabulous job setting this up.
The Dessert Table was such as an oasis for the sweet cravings! I really needed a big backdrop for this table but couldn't find it on the market, so I had to make it myself with authentic rope and a board of stained wood. The Happy Birthday banner and the design of the candy labels were also designed by my super talented friend Mae.
Don't forget to check out her store, I'm sure you will find the perfect touch for your party.
The table had the perfect treats to match with the party theme: candies, chocolates and cupcakes all around the fabulous cake, made by Sheila's Sweet Shoppe, who did an excellent job.
Look at these Cow Patties cookies and the Sheriff Star chocolate lollipops!
I loved how everything put together really created the feel of an amazing Wild West World.
That's it folks! Thank you for joining on this tour of Eli's Wild West Birthday party, hope you liked it as much as I did and got some new ideas for a kid's party.
I want to share this last picture of an adorable cowgirl with you, just because it made me so happy to see the surprised expression of the little ones and their joy to be part of something like this.